Profile

Don't Kill Spike Club Live Journal
For all the latest from & about James Marsters!
Free Account
Created on 2011-12-21 09:42:42 (#1154505), last updated 2017-07-16 (5 days ago)
5,481 comments received, 134 comments posted
6,779 Journal Entries, 886 Tags, 0 Memories, 40 Icons

About

Mini Bio
Founder of the Don't Kill Spike Club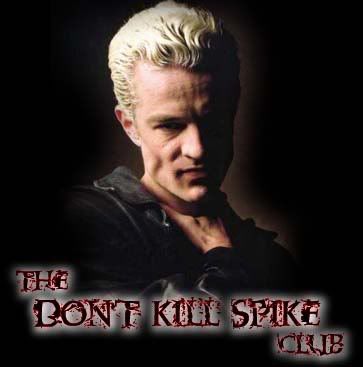 Join the DKSC Mailing List for all the latest James Marsters/Spike news direct to your inbox:

DKSC/Bloody Board Twitter Updates
View Twitter Widget @ DKSC James Marsters News
Tweets by @jamie_marsters
Tweets by @JamesMarstersOf
Australian's who wanna earn money for reading emails, doing surveys and shopping online, I've already earned myself well over $200!:




Affiliate:


jmfun
Hysterical Woman icon credit:
curriejean
@
savecoffeeboy
Castiel Dean Mood Theme credit:
easy_to_corrupt

Connect
agent carter
,
agents of s.h.i.e.l.d.
,
agents of shield
,
alec/logan
,
angel
,
angel comics
,
angel the series
,
arthur/lancelot
,
arthur/merlin
,
atlantis
,
ats
,
avengers
,
bates motel
,
beckett/mckay
, beckett/michael,
beckett/sheppard
,
beckett/zelenka
,
beckshep
,
bloody awful poet
,
bloody awful poetry
,
bradley/colin
,
browncoats
,
btvs
,
buffy
,
buffy comics
,
buffy the vampire slayer
,
buffyverse
,
cameron/rodney
,
caprica
,
captain john hart
,
carson/michael
,
carson/radek
,
carson/rodney
,
chance
, cool money,
crossovers
,
daniel/cameron
,
danny/steve
,
dark angel
,
dark angel slash
,
deadpool
, dksc,
doctor who
,
doctor/ianto
,
doctor/ianto/jack
, doctor/jack/ianto, don't kill spike, don't kill spike club, dont kill spike,
dr who
,
draco/remus
, dragonball: evolution,
dresden files
,
fanfic
,
fanfiction
,
firefly
,
firefly rps
,
ghost of the robot
,
glee
,
harry potter
,
harry/draco
,
harry/lucius
,
harry/remus
,
hawaii five-0
,
hawaii five-o
,
hawkeye
, high plains invaders,
hostile 17
,
ianto jones
,
ianto/10
,
ianto/andy
, ianto/doctor, ianto/doctor/jack,
ianto/jack
, ianto/jack/doctor,
ianto/owen
,
izombie
,
jack/doctor/ianto
,
jack/ianto
,
jack/ianto/doctor
,
jack/owen/ianto
,
james marsters
, james wesley marsters, jamesmarsters,
john hart
,
joss
,
joss whedon
,
jossverse
,
lancelot/arthur
,
lancelot/merlin
, lathan,
logan/alec
,
lorne/beckett
,
lorne/mckay
, lorne/rodney,
lorne/sheppard
,
lucius/harry
,
mal/simon
, mark devine,
marsters
,
marvel
,
marvel's runaways
,
mcbeck
,
mckay/beckett
, mckay/beckett/zelenka, mckay/jackson,
mckay/lorne
,
mckay/mitchell
,
mckay/sheppard
, mckay/sheppard/zelenka,
mckay/zelenka
,
mcmitchell
,
mcshep
,
merlin/arthur
,
merlin/gwaine
,
merlin/lancelot
, metal hurlant chronicles, moonshot,
mpreg
,
nathan/sean
,
once upon a time
,
owen/ianto
,
penny dreadful
,
puck/kurt
, puck/sam,
puckurt
,
real person slash
,
remus/draco
,
remus/harry
,
ripper street
,
rodney/cameron
,
rodney/carson
,
rodney/daniel
,
rodney/lorne
,
roswell
,
rps
,
runaways
,
sean/nathan
,
serenity
,
sga
,
shadow puppets
,
sheppard/beckett
,
sheppard/lorne
,
sheppard/mckay
,
sheppard/mckay/beckett
,
sheppard/zelenka
,
simon/mal
,
simon/wash
,
slash
,
slash fanfic
,
slash fic
,
slash fiction
,
sleepy hollow
,
smallville
,
spander
,
spike
, spike comics,
spike/xander
,
spn
,
stargate slash
,
stargate: atlantis
, super hero squad show,
supernatural
,
the 100
,
the flash
,
torchwood
,
torchwood slash
,
twilight
, victor stein, vidiots,
whedon
,
whedonverse
,
william pratt
,
william the bloody
,
witches of east end
,
xander/spike
,
zelenka/beckett

People
[View Entries]

Communities
[View entries]

Member Of (15):
bradleycolin
,
deancastiel
,
doctor_janto
,
gabrielsam
,
gleekinkmeme
,
gwerlinpost
,
hpslash
,
merlin_arthur
,
merlin_poly
,
merlinslash
,
sg_flyboys
,
slashing_lorne
,
spn_rps
,
stargateslash
,
stevedannoslash

Subscriptions (18):
atlantisbigbang
,
bradleycolin
,
deancastiel
,
doctor_janto
,
dw_maintenance
,
dw_news
,
gabrielsam
,
gleekinkmeme
,
gwerlinpost
,
hpslash
,
merlin_arthur
,
merlin_poly
,
merlinslash
,
sg_flyboys
,
slashing_lorne
,
spn_rps
,
stargateslash
,
stevedannoslash

Administrator Of (0)

Feeds
[View Entries]

Subscriptions (5):

Linking
To link to this user, copy this code:
On Dreamwidth:
Elsewhere: